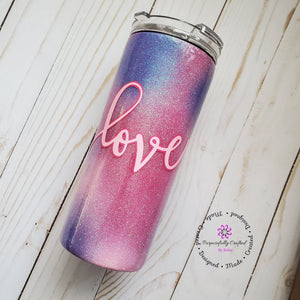 Love Glitter Tumbler
15oz Love Glitter Tumbler

This tumbler was made with a stainless steel tumbler, glitter, vinyl, and a FDA approved Epoxy. 
This item is made to order. Due to the random nature of this design, the pattern of colors will be different for each tumbler.
This is available in a 15oz Skinny Tumbler. 
Care Instructions:
In order to prolong the use of your cup, we do not recommend placing your tumbler in the dishwasher or microwave. Please do not soak in water for a long period of time. To clean your tumbler please hand wash with a mild soap.